Description and technical details
In a world where design entrance doors become standard, a Kyoto door with bamboo cover manages to convey the right look to different customers. This is a luxurious entrance door with a natural bamboo finish that can also be painted. Whether in the classic bamboo look, or after painting at customer's choice, the Kyoto door connects simplicity and luxury. This is a door that can be both a cozy country entrance door and a modern, clean entrance door that gives you a sense of furniture for all intents and purposes.
Dimensions and sizes
Double-wing door
A half-wing door
Single wing door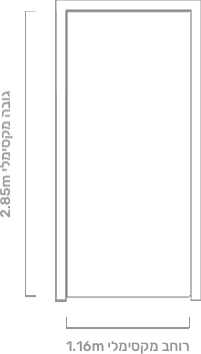 Contact us about the door Kyoto
To schedule a meeting with a door consultant, fill in the details and our representative will return to you as soon as possible
Prefer on the phone?
Call to schedule a meeting
What they say about us
The service was excellent, from the salesperson at the branch to the time-stamped installers, the service was excellent, from the salesperson at the branch to the time-stamped installers
Sharon Levi, Beer ShevaKyoto
The service was excellent, from the salesperson at the branch to the time-stamped installers, the service was excellent, from the salesperson at the branch to the time-stamped installers
Alex Kogan, NetaniaKyoto
The service was excellent, from the salesperson at the branch to the time-stamped installers, the service was excellent, from the salesperson at the branch to the time-stamped installers
Dani Abuksis, NetaniaSahara
The service was excellent, from the salesperson at the branch to the time-stamped installers, the service was excellent, from the salesperson at the branch to the time-stamped installers
Moshe Abuksis, NetaniaSahara
The service was excellent, from the salesperson at the branch to the time-stamped installers, the service was excellent, from the salesperson at the branch to the time-stamped installers
Sharon Kogan, NetaniaKyoto
The service was excellent, from the salesperson at the branch to the time-stamped installers, the service was excellent, from the salesperson at the branch to the time-stamped installers
Sharon Abuksis, Tel AvivKyoto